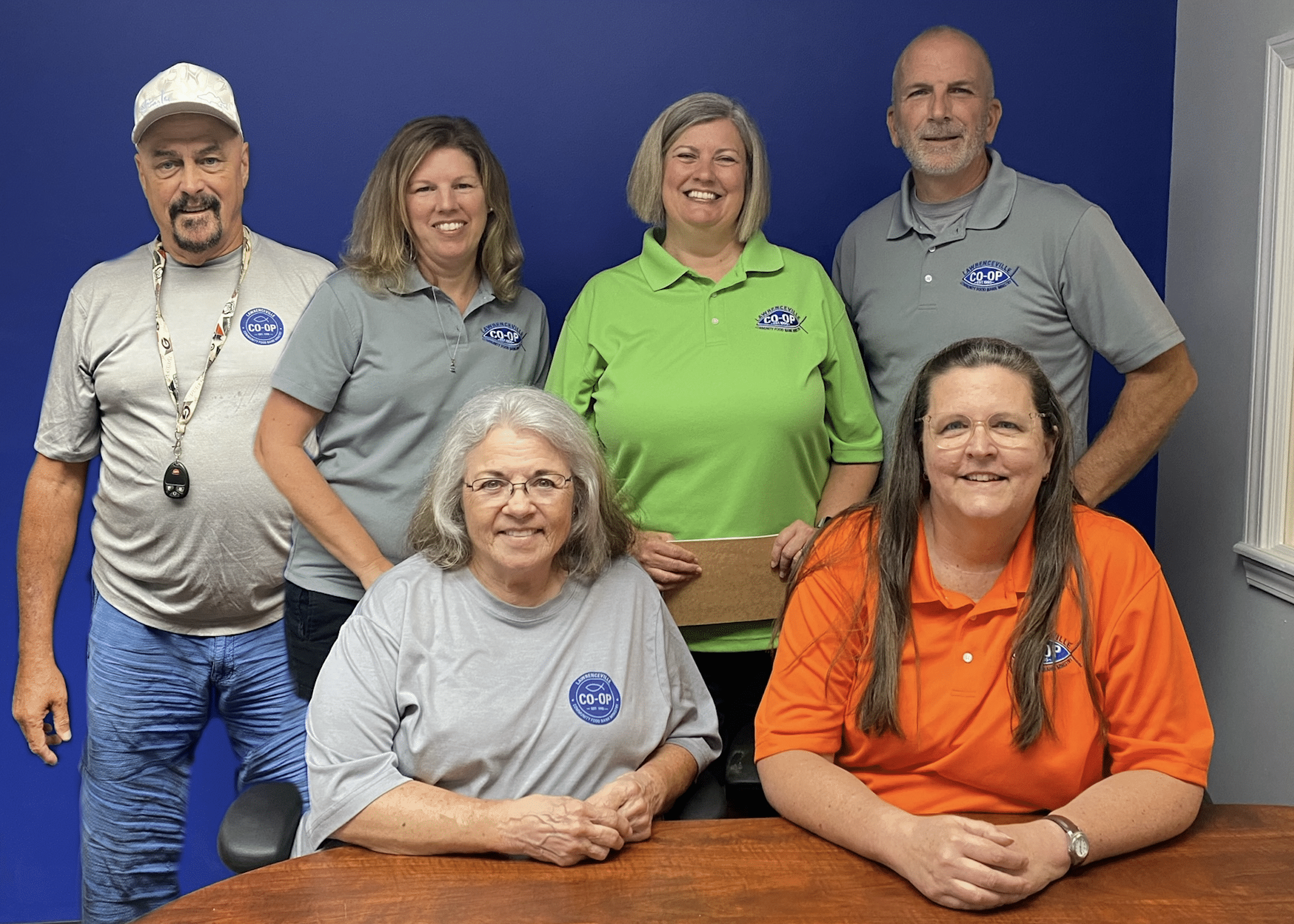 The Lawrenceville Cooperative Ministry is a Christian organization providing food for people in need in Lawrenceville and Dacula.
Lisa Engberg
Lisa Engberg started with the Co-Op in October of 2021. She took over as the Executive Director in August of 2023 after serving almost two years as the Director of Development and Communications. Lisa is responsible for the overall operations of our program. She loves going to groups and sharing the mission and vision of the Lawrenceville Co-Op and would be honored to speak at your next event. One of Lisa's favorite Bible Verses is Matthew 6:34: "Don't worry about tomorrow, tomorrow has enough concern of its own."
Tom Balog
Tom Balog started with the Lawrenceville Co-Op Food Bank Ministry on January 1 of 2017 and served as the Executive Director for almost seven years. In August of 2023, he took over as the Facilities Manager of the Co-Op. He makes sure everything we need to serve our clients is ready to go – from IT to vehicles to building. Tom's favorite Bible Verse is Jeremiah 29:11-13: "For I know the plans I have for you," declares the Lord, "plans to prosper you and not to harm you, plans to give you hope and a future. Then you will call on me and come and pray to me, and I will listen to you. You will seek me and find me when you seek me with all your heart."
Ruth Hardy
Ruth Hardy started with the Lawrenceville Co-Op on 11/11/2016. Ruth is the Client Manager here at the Co-Op. Her primary duty is client services. Ruth works with our volunteer intake team to make sure we have proper documentation on our clients. She also makes sure our clients have access to what they need. Ruth's favorite Bible Verse is Proverbs 3:5-6: "Trust the Lord with all your heart, and lean not on your own understanding. In all your ways acknowledge him, and he will make straight your path."
Paula Anderson
Paula Anderson began working with the Co-Op in February of 2020. She is currently our Administrative Manager after serving three years as Pantry Manager. Paula helps keep our program running smoothly by taking care of financials, reporting, and volunteer training/scheduling just to name a few. She loves watching first hand our community coming together to help our neighbors. Paula's favorite Bible Verse is Psalm 46:10 (NIV): "Be still, and know that I am God; I will be exalted among the nations, I will be exalted in the earth."
Jeff Bates
Jeff Bates began working with the Co-Op in July of 2022. Jeff is our friendly Co-Op driver! He is responsible for food pick ups during the week. If you see Jeff on the road, be sure and give him a friendly wave for all his help and hard work.
Nancy Wood
Nancy started with Lawrenceville Cooperative Minstry in February of 2017. She is our Saturday Supervisor. Nancy primarily spends several days a week inputting data about our clients to help our screeners best meet their needs. She also runs our Saturday morning operation by coordinating volunteers and any activities that morning. One of her favorite Bible Verses is Proverbs 16:18: "Pride goeth before (leads to) destruction and a haughty (arrogant) spirit before a fall."
Hours of Operation
Mon 9 am - 7 pm Donations
5-7 pm Distribution
Tu/Thu 9 am - 1 pm Donations only
Wed/Fri 9 am - Noon Donations and Distribution
Sat 10-11:30 am Donations only